Extraordinary Measures is a 2010 drama film starring Brendan Fraser, Harrison Ford, and Keri Russell. It is distributed by CBS Films and was released on January 22, 2010. It is about parents who form a biotechnology company to develop a drug to save the lives of their children, who have a life-threatening disease. The film is based on the true story of John and Aileen Crowley, whose children have Pompe's disease. The film was shot in St. Paul, Oregon, Portland, the Corner Saloon in Tualatin, Oregon, and Beaverton, Oregon as well as Vancouver, Washington. It is the first film to go into production for CBS Films, the film division of CBS Corporation.
Plot
Brendan Fraser plays John Crowley, a biotechnology executive whose two youngest children were afflicted with Pompe disease or acid maltase deficiency. Along with his wife Aileen (Keri Russell), he raises money for research scientist Robert Stonehill (Harrison Ford), forming a company to develop a drug to save his children's lives.
The story centers on the Crowleys' two dying children, aged 8 and 6 in the film (with their non-fiction counterparts having been diagnosed at 15 months and 7 days old, receiving treatment at 5 and 4, respectively).[citation needed]
Adapted by Robert Nelson Jacobs from a nonfiction book " The Cure: How a Father Raised $100 Million--and Bucked the Medical Establishment--in a Quest to Save His Children " by the Pulitzer Prize journalist Geeta Anand, the film is also an examination of how medical research is conducted and financed.
[edit]Cast
Brendan Fraser as John Crowley
Harrison Ford as Dr. Robert Stonehill
Keri Russell as Aileen Crowley
Courtney B. Vance as Marcus Temple
Meredith Droeger as Megan Crowley
Diego Velazquez as Patrick Crowley
Sam M. Hall as John Crowley, Jr.
Patrick Bauchau as Eric Loring
Jared Harris as Dr. Kent Webber
Alan Ruck as Pete Sutphen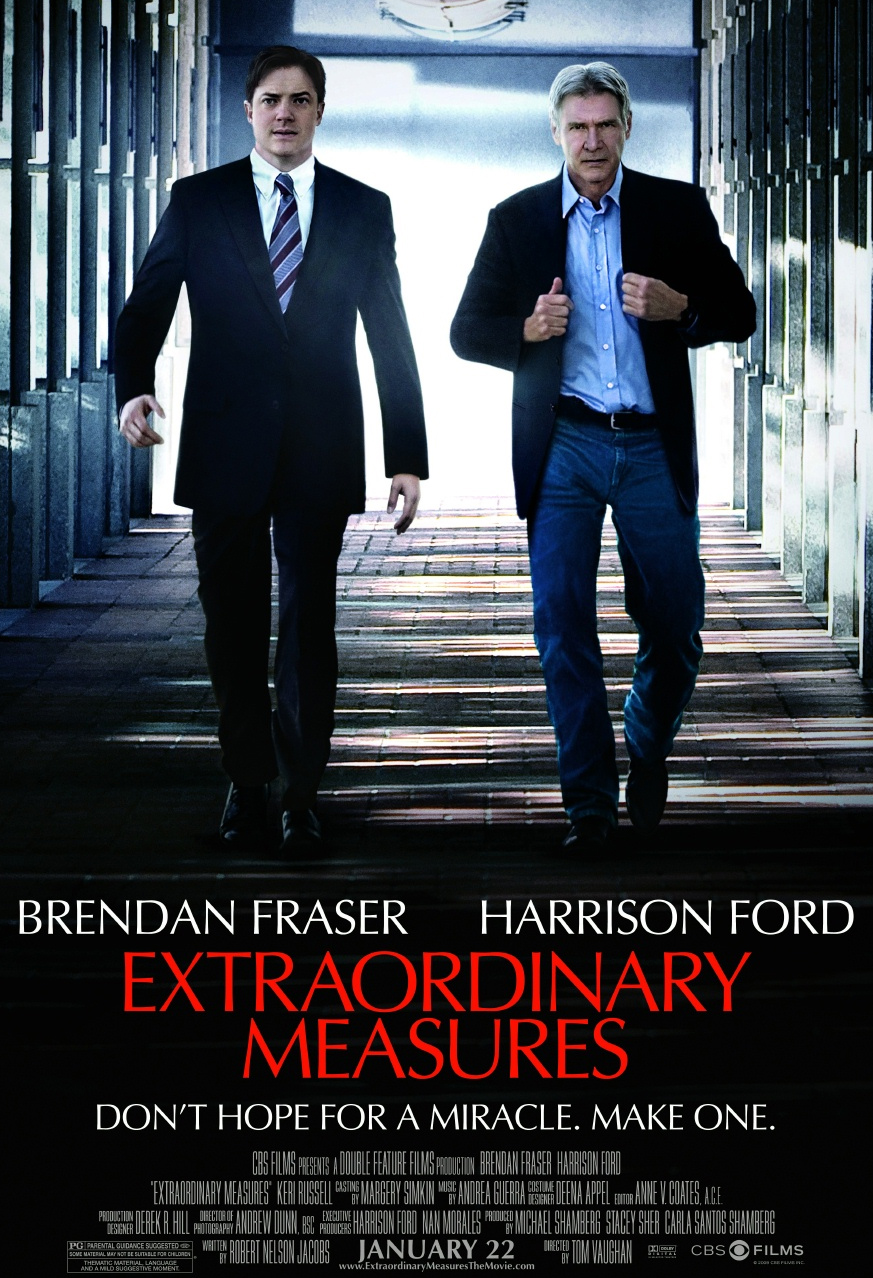 片名: 特别措施
  英文片名: Extraordinary Measures
  更多片名: 灵异妙药
  良医妙药
  克罗利
  导演: 汤姆·沃恩 Tom Vaughan
  制片: 哈里森·福特 Harrison Ford
  编剧: Geeta Anand ....boo.
  主演: 布兰登·费舍 Brendan Fraser/哈里森·福特 Harrison Ford/ Keri Russell/考特尼·万斯 Courtney B. Vance
  类型: 剧情
  级别: USA:PG
  地域: 欧美
  国家: 美国
  出品年份: 2010
  上映日期: 2010-01-22 美国
特别措施 海报
剧情介绍:
  本片根据美国生物科技业成功企业家约翰·克劳利的故事改编。故事开始时,约翰·克劳利(布兰登·费舍饰演)在辛苦工作了这些年后,终于可以晋身企业管理团队之中了。事业蒸蒸日上,妻子如花似玉,三个孩子乖巧伶俐,克劳利的生活一片歌舞升平锦绣繁华。然而,最小的两个孩子梅根和帕吉克突然被诊断出患有一种罕见的致命绝症,剩下的时间只有一年左右。为了挽救孩子们的生命,约翰·克劳利依然辞去了工作,全身心的投入到了问孩子们寻医问药的努力。然而这种病症目前还无药可就。经过寻访,约翰·克劳利找到了不得志的天才博士罗伯特·司登希尔(哈里森·福特饰演),拿出全部家财与其结为搭档共同开发新药。两人一个为了实现自己未酬的壮志,一个为了拯救孩子的生命,都对这个项目投入了全部的精力。一路上两人历尽艰辛,终于如愿以偿。