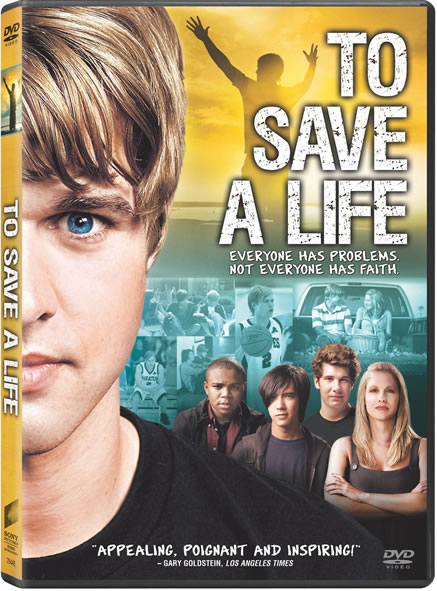 To Save a Life is a 2010 Christian drama film directed by Brian Baugh. The film was released theatrically in the United States on January 22, 2010, and was written by Jim Britts. It stars Randy Wayne, Deja Kreutzberg, Robert Bailey Jr., Steven Crowder and Sean Michael Afable. The United States rights were acquired by Samuel Goldwyn Films from New Song Pictures.
To Save a Life was produced on a budget of about $1 million, but nearly doubled that in its opening weekend. The film was released to 441 theaters on January 22, 2010, and has grossed $3,777,210 domestically. It was received with mixed to generally negative reviews from film critics.
Plot
The story opens with Jake Talyor (Randy Wayne) attending the funeral of his ex-best friend Roger (Robert Bailey Jr.). After Roger's mom comes and asks Jake if Roger had said anything to him, she walks away, and Jake remembers that this all started during their freshmen year of high school. After Jake had made the winning basket in a basketball game, a girl named Amy invited him to a party but didn't want Roger to come (as he's not cool to her) and in the years later Amy becomes his girlfriend, he gets a new crowd of friends, star of the basketball team, and grows further away from Roger and the problems he faces. Three years later when they're high school seniors, Roger comes in with a gun and shoots himself. Roger dies from his injuries and Jake wonders that if he had been a better friend could he have saved him. After the final basketball game of the season, Jake meets up with Chris, the pastor from Roger's funeral, and a youth pastor. Later, at a party, one of his friends, Doug, lets in a boy in a wizard outfit as he gave him a fake invitation. While everyone is laughing at him, Jake feels sorry for him, but Amy is telling him it's funny and then to just forget about it. They then head up to the bedroom and have sex , only to have the police arrive minutes after they are done. Jake, being drunk, won't leave. When he gets a little bit of sense back, he gets dressed, and sneaks out of the house. When he gets to the curb, he realizes that Amy stole his truck. As all of his friends are either with the police, very drunk, or asleep, he calls Chris. They talk of Roger's death and Chris tells him that the Sunday before he killed himself, he came to church, but Chris didn't pay much attention to him, because someone else came up to him.
The next day Jake walks into church, and looks for Chris. With the help of Danny, one of the "not-so-nice" guys, and the pastor's son, he goes to the room in the back where there is a youth group called "Souled Out." He sits in the back and afterward, Chris takes him home where Amy is waiting for him with his truck, and also gives him a Bible and a Christian CD. Amy is upset because Jake isn't acting like himself and tells him to get over the shooting, but Jake can't, knowing that they were good friends. Later he goes back to church, but doesn't go in because he's confused about everything going on. He then goes on the web and looks up "teen suicides", then goes to Roger's MySpace page and Jake reads his status and sees the things he was feeling. The next Sunday, he takes Amy to church with him, but she wants to leave immediately because she felt judged and said it was her or them. Jake asks to just wait a little while longer. Amy protests that she has something to say, but can't talk about it here. Jake goes back in, supposedly ending their relationship. Amy calls Doug and he comes and picks her up, as he had always had a crush on her. After Jake goes back into the back room, Chris calls for a 30 second period of silence to think about things but Jake sees people talking during this time. He curses a little and says that it was disrespectful and that Amy left because she felt judged and no one noticed at all. Chris asks for a solution, and a girl named Andrea suggests that they all have lunch together at school.
For the next few weeks they all meet at lunch everyday, and slowly, Jake becomes shunned from all of his old friends, including Amy. Jake sees the same boy from the party and he invites him over, but the boy says he has homework to do. He introduces himself as Jonny, and a couple days later joins the group. Jonny starts to have a whole new personality change from a dark side to a happier side of himself, especially after Jake gave him a ride home one day and hung out with him mostly because when Jonny went to open the door, he accidentally revealed long cutting scars on his wrist. Later on Doug approaches Jake and demands to know what is going on with him since he's not the same. He says he plans on having sex with Amy but Jake knows Amy won't do it and Doug becomes furious and they both get into a huge fight.
After some time, Jonny asks Jake if he has any experience in asking girls out. It turns out, he has a crush on Andrea and wants to go on a date with her. Jake helps him figure out a way to get Andrea to say yes. It ends up with Jonny putting a block of ice and a hammer by her front door. She breaks it revealing a vase of flowers. Then Jonny comes out of the bushes and since they've now "broken the ice," if she would go on a date with him. She happily agrees. They both get ice cream cones and Andrea reveals that she used to be a cutter as well. When Andrea takes his wrist, Jonny takes that as a "move", and tries to kiss her, but his nose goes into her ice cream, and his ice cream falls into her lap. Meanwhile, the once happy Jake after seeing Jonny off on his date, goes home and immediately his mood diminishes. His parents are getting a divorce after his mom caught his dad with another woman, and Amy is pregnant with Jake's son. Amy doesn't want to keep the baby, but Jake wants to talk about it, but Amy isn't giving him a chance to talk about keeping their son. The next day at school, Jonny wants help from Jake on what to do with Andrea after he blew his chance. Jake takes his anger out on Jonny by saying it doesn't matter what happens or if Andrea likes him or not, then mimics his cutting problem in front of everyone. Utterly humiliated, Jonny gets into Jake's face and says he was better off without Jake coming into his life.
Jake goes to youth group and talks to Andrea about what happened. She feels a little bad and asks Jake if he'd seen him lately. He says he's called a few times but Jonny never calls back. When Jake calls yet again, the scene goes to Jonny's house, where it is revealed that Jonny is cutting his wrists again.
Jake talks to Chris about Amy's pregnancy. Chris says that God is not punishing him but that he needs to let Amy know shes not alone in this, even though she wants to have an abortion. Danny overhears Jake and Chris talking about it and posts pictures all over the school about Amy being pregnant and Jake being the dad. Doug makes fun of Amy and lashes out at her, calling her horrible names, which infuriates Jake. He punches Doug, but Doug throws him to the ground and claims that even though Jake is always sitting with the Bible group at lunch, he's "the biggest faker of all" and that he's not worth anything, thus putting an end to his and Jake's friendship.
When Jonny bumps into Danny, Jonny accidentally drops his cell phone, which Danny picks up. After the students flood outside to the field, one of the security guards for the school tells the students that a bomb threat was issued at the school and if anyone tried to leave the premises, they would be expelled. He then says that if anyone has any information, to report it to him immediately. Danny steps forward and tells the police he thinks it was Jonny. The police search Jonny's locker and find horrific pictures of bombs exploding the school. They all walk outside and go and ask Jonny for his phone, but he doesn't have it, because Danny still does. The police handcuff Jonny, and walk him through the crowd of the entire student body. Jake knows Jonny could not possibly have done this and somehow gets the idea to call Jonny's phone. From across the field, he sees Danny answer the phone. Jake finds a way to prove his innocence, and gets all of his closest friends in on the plan. Amy goes up to the guards for the school, groaning in pain, pretending to feel ill because of her pregnancy. While the guards are distracted, Jake runs past them, unfortunately drawing the attention of one of the guards. He runs after Jake and catches him, but Jake manages to get out of his grip and step in front of the police car. Jonny had opened a bottle of pills preparing to take them, and therefore killing himself just like Roger did, but Jake successfully stops the vehicle just before Jonny ends up like Roger. Danny is then caught by the police, but could not call his father, and instead called Chris. Chris leaves Danny alone, which makes Danny very angry. He starts screaming at Chris, even though he is already gone, and starts crying in disappointment. Jake offers to stay with Danny. Seeing that Danny could not call him and now knowing that he did not even know his own son, the pastor takes a leave of absence to spend time with Danny and Chris becomes the new pastor in his place.
Jake's life soon returns to normal. The baby is placed in open adoption, and Amy gets back together with Jake. Jake heads to Louisville for college and everyone is there for their goodbye and even his dad comes along with him so they can talk. Jonny gives him a note to read on the way there where he states that he actually did feel like Roger and thought about taking his life too and that if Jake didn't invite him for lunch that one day, he didn't know where he'd be at the moment. The movie ends with the truck driving on the highway, supposedly with Jake keeping in touch with Amy and patching things up with his father.
Cast
Randy Wayne as Jacob "Jake" Taylor
Deja Kreutzberg as Amanda "Amy" Briggs
Joshua Weigel as Christopher "Chris" Vaughn
Sean Michael as Jonathan "Jonny" Garcia
Robert Bailey Jr. as Roger Dawson
Steven Crowder as Douglas "Doug" Moore
D. David Morin as Marcus "Mark" Rivers
Kim Hidalgo as Andrea Stevens
Bubba Lewis as Daniel "Danny" Rivers
片名:拯救生命
  To Save a Life
《拯救生命》电影海报
类型:剧情
  国家/地区:美国
  上映日期:2010年1月22日(美国)
  IMDB评分 6.2/10 545 votes
  片长 120 分钟
演职员表
  导演:布赖恩·巴夫 Brian Baugh
  主演:
  兰迪·韦恩 Randy Wayne ....Jake Taylor
影片海报
Deja Kreutzberg ....Amy Briggs
  Joshua Weigel ....Chris Vaughn
  史蒂芬·克劳德 Steven Crowder ....Doug Moore
  D. David Morin ....Mark Rivers
  西恩·迈克尔 Sean Michael ....Jonny Garcia
  Bubba Lewis ....Danny Rivers
  Robert Bailey Jr. ....Roger Dawson
  金·海德尔格 Kim Hidalgo ....Andrea Stevens
  Arjay Smith ....Matt McQueen
  Orin Mozon ....Billy
剧情简介
  孤独也可以让一个人的灵魂死亡……杰克·泰勒(兰迪·韦恩饰)显然属于那种上帝的宠儿,他拥有着别人梦寐以求的一切:朋友、名誉和篮球奖学金,还追到了全校最漂亮、最性感的校花做女朋友,他已经想象不出还有比现在更美好的生活了。拯救生命 剧照(6张)
  与杰克的呼风唤雨形成鲜明对比的,是罗杰·道森(小罗伯特·贝利饰),一个一无所有的可怜虫,没有朋友,更没有希望,惟一得到的就是被贬低和轻视,总是无端地被不认识的人推到一边,什么也得不到,罗杰总是想,还能有比这更加糟糕的生活吗?
  事实上,当杰克和罗杰还是两个小男孩的时候,他们曾经是最好的朋友,可是上了高中之后,学校里的一些政策和人际关系迅速将他们分到了两个极端的派别当中。现在,罗杰已经不再适合做杰克的朋友了,被任何一个社交圈拒之门外,成了一个倍受排斥的局外人。罗杰感到无比地痛苦,他的心在滴血,所以他做出了一个可怕的决定,他把一把枪放在了口袋里,带到了学校。
  杰克拼尽了一切努力,却仍然没办法阻止罗杰……突然而至的惨剧彻底地撼动了杰克的世界观和价值观,他意识到,自己的内心深处似乎有什么东西挣脱了束缚,完完全全地改变了他,他开始对周遭的一切都持一种怀疑的否定态度。最最糟糕的是,有一个问题始终有如梦魇一般纠缠着杰克,他不断地询问自己是否能拯救罗杰。为了寻找到答案,杰克发现自己不由自主地开始寻找下一个"罗杰",专门与那些不合群或孤独的人接触,不过他也很快就意识到,自己的这种超越了班级的等级划分的做法,正在威胁着要毁掉他曾经奉为信仰的一切,需要他付出巨大的代价去换取,不仅仅是他的朋友、女友和梦想,甚至还有他之前好不容易累积起来的名誉——我到底想让自己的生活变成什么样?为了寻找到这个终极问题的答案,杰克忍不住开始思考,是否值得为此付出自己的一切?