S.W.A.T. is a 2003 action-crime film directed by Clark Johnson, and is based on the 1975 television series of the same name. It stars Samuel L. Jackson, Colin Farrell, LL Cool J and Michelle Rodriguez. It was produced by Neal H. Moritz and released in the United States on August 8, 2003.
The film begins with a hostage situation in Los Angeles; this was loosely based on the 1997 North Hollywood shootout. Officer Jim Street (Colin Farrell), a former Navy SEAL and hot-shot cop from the Los Angeles Police Department and his SWAT team are sent to stop a gang of robbers who have taken over a bank. His high-tempered partner and close friend Brian Gamble (Jeremy Renner) disobeys an order, and wounds a hostage. Gamble and Street are demoted by Captain Fuller (Larry Poindexter), the commander of LAPD's Metropolitan Division, who is portrayed as a "fussy martinet". Gamble quits following arguments with Fuller and Street, the latter of whom is taken off the SWAT team and sent to work in the "gun cage", where he looks after gear and weapons.
The Chief of Police calls on Sergeant Daniel "Hondo" Harrelson (Samuel L. Jackson) to help re-organize the SWAT division. Hondo is transferred in, and soon puts together a diverse team, including himself, Street, Chris Sánchez (Michelle Rodriguez), Deacon Kaye (LL Cool J), T.J. McCabe (Josh Charles), and Michael Boxer (Brian Van Holt). The team trains together and develops bonds of friendship, and their first mission to subdue an unstable gunman is a success.
Meanwhile, a drug lord by the name of Alexander Montel (Olivier Martinez) has killed his father and uncle for control of the family's crime empire. Uniformed L.A.P.D. personnel stop Montel for a broken taillight, detain him, and learn through Interpol he is an international fugitive. But as Montel is transferred to prison, his associates, dressed as LAPD officers, assault the Los Angeles County Sheriff's Department bus transporting Montel in an attempt to free him. Hondo's SWAT team foils the assault. As Montel is being brought into the police station in front of a group of reporters, he yells to the TV cameras, "I will give 100 million dollars to whoever gets me out of here!"
The L.A.P.D. makes plans to transfer Montel into federal custody. They plan to fly him away, but a mysterious attacker (it is presumed to be Gamble) shoots down the helicopter. The police next send out a large convoy, which gang members attack. It proves to be a decoy, and Hondo's team has spirited Montel away in two S.U.V.s. However, T.J. has been plotting with Gamble, and the two succeed in taking Montel from the other officers, critically wounding Boxer in the process. Hondo and the rest give chase, and there is a final fierce battle, Gamble's group against the SWAT officers. Hondo's team is victorious. T.J. kills himself rather than be captured, and there is a vicious hand to hand fight between Street and Gamble, with Street emerging the eventual victor when he kicks Gamble under the wheels of a passing train. The SWAT team delivers Montel to a federal prison to await trial. On the way home to L.A., a report of a holdup in progress comes over the police radio, and despite the team being two officers down and off shift for the past twelve hours, Hondo, Street, Kaye, and Sanchez decide to help anyway. The film's last line is Hondo shouting, "Mount up!".
[edit] CastSamuel L. Jackson as Sergeant Second Grade Daniel "Hondo" Harrelson, He is brought back by the Chief of Police to head a new SWAT Element. He is a retired Recon Marine. He uses both an M4A1 and MP5A2. He personally upgraded the trigger of the M4A1 that he uses. His call sign is 70 David.
Colin Farrell as Police Officer Third Grade Jim Street. He is originally assigned to SWAT, but after an incident with his partner he is removed from the team and placed in the "gun cage." After Hondo sees how well he can shoot, he is recruited for Hondo's new SWAT team. He is a former Navy SEAL and explosives expert. Street uses an M4A1 and a Kimber Custom TLE II pistol on SWAT missions.
Michelle Rodriguez as Police Officer Third Grade Chris Sanchez, was a frequent applicant to SWAT, who was rejected each time due to the captain's sexism. Hondo persuades him to allow her to be on his team. She carries an MP5 on SWAT calls. Her callsign is 73-David. She has a daughter named Eliza.
LL Cool J as Police Officer Third Grade Deacon "Deke" Kaye, is a Patrol officer and father of two children whom Hondo also recruits. In the SWAT team, he is armed with a Benelli M3 Super 90 shotgun and later Hondo's MP5, and serves as the rear-guard of the team.
Josh Charles as Police Officer Third Grade T.J. McCabe, is a member of SWAT who initially has problems with Street.
Jeremy Renner as former Police Officer Third Grade Brian Gamble, Street's former partner. He quit the L.A.P.D. after being demoted.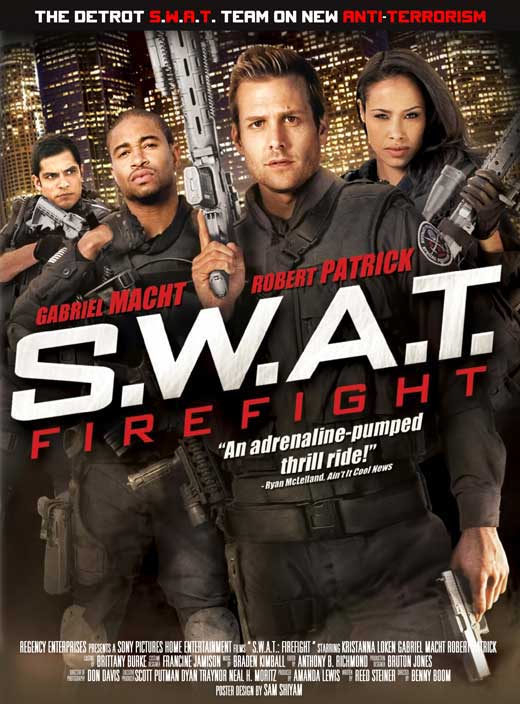 S.W.A.T.: Firefight is a 2011 American action crime thriller film directed by Benny Boom, and sequel to the 2003 film S.W.A.T., based on the 1975 television series of the same name.
The film begins with Lt. Paul Cutler (Gabriel Macht), a S.W.A.T. officer, successfully rescuing hostages with no casualties in Los Angeles. He is recognized as one of the best S.W.A.T. officers and is sent to train the Detroit S.W.A.T. in new techniques and tactics. He immediately imposes his authority and has a rough time with the Captain of the department. He begins to adjust and introduces intense training exercises to help the team bond and become effective. The team are called into action when ex-government agent Walter Hatch (Robert Patrick) is holding his girl in what appears to be a hostage situation. The girl is rescued but takes a pistol and asks Cutler to move so she can shoot Hatch. When Cutler tries to calm her down, she commits suicide and it is revealed Walter was in love with the girl. Cutler's 10 year record with no hostages lost is broken and it takes its toll on him. Nevertheless he continues his training with the team. He encounters particular problems with Justin Kellogg (Nicholas Gonzalez), who has taken a particular dislike to Cutler. Cutler then challenges him to a bet, which Kellog loses resulting in him been re-assigned and no longer a part of the team. As the training goes on, Hatch steals a binder which contains details of tactics and information on the members. Meanwhile, Cutler starts a passionate relationship with Kim Byers (Carly Pope). The phone calls from Hatch now increase and he kidnaps Kim after planting a bomb under Cutler's car which was safely defused. The S.W.A.T. are then called to a derelict warehouse where things do not appear to be right as no officers are on the scene. In the van, communication from the station shows that the call was a hoax. The members enter and are overwhelmed and kidnapped. Cutler arrives to rescue the team and finds Watters chained up, he cuts him down carefully (with Watters injured from the fall pre-kidnap). Cutler then tells him to stay put but he ventures too far from cover and get shot several times in the chest. With Cutler as the only S.W.A.T. member still active he chases down Hatch after freeing Lori Barton (Shannon Kane). He then proceeds to disarm Hatch while Kim tries to cut free from a bomb vest. She manages to escape it and lunges it towards Hatch just as Cutler kicks him back into the wall. Cutler fires a shot, hitting the vest and detonating it, killing Hatch. Support arrives, Watters survived as he is being carried to hospital and Cutler decides to head back to L.A. after rejecting an offer from the Captain to stay.
[edit] CastGabriel Macht as Lt. Paul Cutler
Carly Pope as Kim Byers
Robert Patrick as Walter Hatch
Giancarlo Esposito as Inspector Hollander
Kristanna Loken as Rose Walker
Shannon Kane as Lori Barton
Kevin Phillips as Kyle Watters
Nicholas Gonzalez as Justin Kellogg
中文名: 反恐特警组   英文名: S.W.A.T   导演: 克拉克 约翰逊 (Clark Johnson)   演员: 塞缪尔 L. 杰克逊 (Samuel L. Jackson) ...... Sgt. Dan 'Hondo' Harrelson   Colin Farrell ...... Jim Street   Michelle Rodriguez ...... Chris Sanchez   LL 康尔 J (LL Cool J) ...... David 'Deke' Kay   乔希 查尔斯 (Josh Charles)   地区: 美国   语言: 英语   发行日期: 2003年   内容简介:   故事从吉米(科林·法瑞尔饰)和他的拍档布莱恩执行的一次人质解救任务开始。由于意外,解救任务最后还是以失败告终。吉米被贬为文职,而他的拍档布莱恩一怒之下脱离警局,最后利用自己的好身手成为一名出色的罪犯。两人在今后势必水火,所以他们的友谊也结束了……   转眼间,两年的时间过去了,吉米依靠不懈努力终于赢回了精英队员的制服,重新回到了由哈里森(塞缪尔·杰克逊饰)担任指挥官的S.W.A.T.队伍之中,并且S.W.A.T.也打破了"没有女人"的规则,出现了S.W.A.T.的第一名女队员——一位单亲妈妈克丽丝(米歇尔·罗德里格兹饰演)。在哈里森的指导下,五名队员接受几个星期的严酷训练之后,吉米和队友开始执行首次任务:看管声明狼籍的大毒枭艾力克斯(奥利维耶·马丁内兹)——一个经营贩毒,军火走私,洗黑钱等罪恶勾当的罪犯。   在被洛杉矶警察捕获之后,艾力克斯仍打算在被国际警察引渡之前逃脱法网,他许诺任何能把他解救出来的人将可以得到1亿美元的巨额赏金,为了得到这笔钱,即使知道面对的是严密防守,亡命徒们也纷纷展开他们的几乎"无法完成的任务",S.W.A.T.的队员开始了他们最艰巨的防守,而前来营救的人中甚至包括贪婪但经验丰富的吉米的前队友布莱恩——他既拥有在精英部队中学到高超身手和技术,此外还对S.W.A.T.有着深刻了解,因而成为S.W.A.T.最棘手的敌人...  
S.W.A.T.封面
◎片 名 S W A T Firefight   ◎年 代 2011   ◎国 家 美国   ◎类 别 动作/惊悚   ◎语 言 英语   ◎片 长 89 Min   ◎导 演 本尼·伯姆 Benny Boom   ◎主 演 克里斯塔娜·洛肯 Kristanna Loken ....Rose Walker   卡莉·波普 Carly Pope ....Kim Byers   罗伯特·帕特里克 Robert Patrick ....Walter Hatch   盖布瑞·马赫特 Gabriel Macht ....Paul Cutler   Giancarlo Esposito ....Inspector Hollander
洛杉矶警察局特警Paul Cutler(Gabriel Macht饰),奉命调往底特律特警组帮助训练,在一次解救人质中,因为Cutler 安排错误,而使狙击手没能击毙劫持者(Walter),在受害者(Rose)被救出之后,竟由于害怕Walter以后的纠缠而举枪自杀。而由于此,Cutler与底特律特警队队长Kellogg结怨,Cutler将Kellogg调出特警队,换由自己当年的好友Lori。Walter因为自己假想爱人Rose自杀,而把罪过全部推到了Cutler和他的队友身上,他开始了自己的报复行动,开始跟踪Cutler,盗取特警队的资料,往Cutler家中送纪念Rose的花。在Cutler发现后曾试图逮捕过Walter,谁料他竟然是FBI的特工,警队只好放走Waler。而被FBI接走后的Walter由于报复心切拒绝完成FBI的任务,竟杀害了FBI的探员。在接下来的日子,Walter一一杀害了Cutler身边的队友,最后竟抓走了Lori和Cutler在底特律刚结识并有好感的Kim。Kellogg在知道后决心帮助Cutler,Cutler怕连累Kellogg决定孤身去面
邪恶的特工Walter
对Walter的挑战,为了救出Lori和Kim,也为了给自己的队员报仇... ...