Never Let Me Go is a 2010 British dystopian drama film based on Kazuo Ishiguro's 2005 novel of the same name. The film was directed by Mark Romanek from a screenplay written by Alex Garland. It stars Carey Mulligan, Keira Knightley, and Andrew Garfield. Never Let Me Go centers on Kathy, Ruth, and Tommy, played respectively by Mulligan, Knightley, and Garfield, who become entangled in a love triangle and are scientific specimens, created in a laboratory and raised in order to provide their organs to severely ill patients. Principal photography began in April 2009, lasting a few weeks, and filmed at various locations, including Andrew Melville Hall. Made on a $15 million budget, Never Let Me Go was produced by DNA Films and Film4.
Prior to the book's publication, Garland had approached the film's producers, Andrew Macdonald and Andrew Reich, about a possible film, and wrote the film a ninety-six page script. While initially having trouble finding an actress to play Kathy, Mulligan was cast in the role after Peter Rice, who is the head of the company financing the film, recommended her while watching her performance in An Education. A fan of the book, Mulligan ecstatically accepted the role, having hoped to play that specific character if a film adaptation were to ever be made of the book, years before. The film's message and themes were the factors that attracted Garfield to become a part of the film.
Never Let Me Go premiered at the 37th annual Telluride Film Festival in September 2010, where the audience positively responded to its message. The film has since been screened at a number of festivals, including the 2010 Toronto International Film Festival as well as opening the 54th London Film Festival. It was distributed theatrically by Fox Searchlight Pictures in the United States on 15 September 2010, where it was given a limited release. Other release dates for the film include a 14 January 2011 date for the United Kingdom.
In the US, playing at four theatres, Never Let Me Go grossed over $111,000 in its opening weekend. As the number of theatres it played at began to expand, it continued to make more money each week, going on to earn over $2.5 million in total in the United States. The movie was off to a better start in its first weekend in the UK, earning £625,000 (1,009,750 USD) and taking ninth place at the box office. Never Let Me Go was met with generally positive reviews from film critics, with most reviewers praising the cast's overall performances.
Plot
The film begins with onscreen captions explaining that a medical breakthrough in 1952 has permitted the human lifespan to be extended beyond 100 years. Subsequently, the film is narrated by 28-year-old Kathy H. as she reminisces about her childhood at Hailsham, as well as her adult life after leaving the school.
The first section of the film depicts the young Kathy, along with her friends Tommy and Ruth, spending their childhood at Hailsham, a seemingly idyllic English boarding school. Gradually, it is revealed that the children are imprisoned on the school grounds. At one point, one of the teachers is fired after telling the pupils of their fate: they are destined to provide donor organs for transplants, and will die before they can fulfill their potential. Tommy is emotionally fragile, and Kathy falls in love with him, but Ruth then steals him from her and her and Tommy begin a relationship. They stay together throughout the rest of their time at Hailsham.
In the second section of the film, the three friends, now teenagers, are rehoused in cottages on a rural farm. They are permitted to leave the grounds if they wish, but are resigned to their eventual fate, apparently seeing it as inevitable. At the farm, they meet former pupils of similar schools to theirs. It is revealed that Kathy and the others are all clones, and are fascinated by the idea of finding the original people that they were "modelled on". From the others at the cottages, Kathy and her friends hear rumours of the possibility of "deferral" - a temporary reprieve from organ donation for clones who are in love and can prove it. Tommy becomes convinced that the The Gallery at Hailsham, where the children's art and poetry was kept, was intended to look into their souls. He believes that artwork sent to The Gallery will verify true love. The relationship between Tommy and Ruth becomes sexual, and jealousy causes Kathy and Ruth to break their friendship. The lonely Kathy applies to become a "carer" - a clone who is given a temporary reprieve from donation as a reward for supporting and comforting donors as they are made to give up their organs. She has become a carer by the time she hears that Tommy and Ruth have split up.
In the third and final section of the film, Kathy is working as a carer 10 years later. She has watched many clones gradually die as their organs are donated; their deaths are referred to as "completion". Kathy hasn't seen Ruth or Tommy since the Cottages, and finds Ruth, who is frail after two donations, while working as a carer. They find Tommy, who is also weakened by his donations, and drive to the sea. There, Ruth admits that she did not love Tommy, and only seduced him because she was afraid to be alone. She is consumed with guilt, and has been searching for a way to help Tommy and Kathy. She believes that the rumours of "deferral" for couples are true, and has found the address of the gallery owner, Madame from Hailsham, whom she thinks may grant couples in love deferals. Ruth dies on the operating table shortly afterward. Tommy explains to Kathy that he has been creating art in the hope that it will aid deferral. He and Kathy drive to visit Madame, who, it transpires, lives with the headmistress of Hailsham. The two teachers tell them that there is no such thing as deferral, and that Tommy's artworks will not help him. They also explain that the purpose of The Gallery was to see if clones have souls, and to challenge the ethics of the creation of donors.
The film ends with Tommy dying on the operating table, and Kathy left alone, knowing that her donations will begin in one month. Contemplating the ruins of her childhood, she asks in voice-over whether her fate is really any different from the people who will receive her organs: after all, "we all complete".
虐心之美 ——《别让我走Never Let Me Go》
单是凯瑞穆丽根 凯拉奈特莉 安德鲁加菲尔德这样的演出阵容就已经让我对本片期待良久,而事实也证明,三位青春偶像实力派不负重望,各自都在影片中都发挥了出色的表演。
最近喜欢用"虐心"这个词来形容自己内心的感受,这种感受不仅仅来自现实生活中的人事情事,同样也会因为一首歌一篇文字一部电影而生出这样的感怀。这个年底尾恰恰又是这样的幸运,能够接连看到《黑天鹅》《兔子洞》《在某处》以及《别让我走》这样精彩至极而又唯美深刻的好电影,这些电影的"好"都有着一个共同点,那就是它们绝对不会带给你"真善美"的美好感觉,也不会给你合家欢的happy ending,而是各自饱含了惆怅,压抑,感伤,残缺遗憾甚至黑暗惊悚的感觉情绪,让人看完心里会长久的"不舒服",在心灵和精神上都仿佛经历了一次某种意义上的"受虐"。然而在这种虐心的感受之外,这些电影却又整体呈现出一种难以言说的深度美感,甚至会带给人一种极致完美的心灵震撼。
《别让我走》就是这样一部带给人"虐心之美"的电影,你无法把它单纯的归于哪一种类型,它有科幻虚构的成分,有爱情唯美的剧情,又有惊悚深刻的主题,各种元素却又被包裹在一种英式剧情文艺片的形式之下。
首先,这部电影改编自日裔英国作家石黑一雄的名作,内容涉及到克隆以及器官移植的科幻科学主题,这个主题也很容易让人想到那部好莱坞商业大片《逃离克隆岛》。《别让我走》也是在这个类似的命题架构下展开剧情的,只是很大不同的是,它不会用商业片那种直白肤浅的表达方式,而是巧妙地把这个命题压抑隐匿到一种看似平常正常的表像之下,貌似淡化处理,实则给人更多的揣度空间,让影片的主题直达观众内心变得更加深刻。观众在感知到电影传达的这个主题之后,自然的就会生出一种深层次的"惊悚"感和恍然后的震撼。
在科幻虚构的背景下,三个主要人物演绎了一段惆怅伤感的爱情故事,鉴于原作的故事风格以及影片的主题,与其说是爱情,倒不如更准确的说是奇情。同样,影片也把这个奇情故事给做了表面的淡化处理,人物之间的关系简单不复杂,情感纠葛也没有引出激烈的矛盾冲突,始终都在一种很有节制的平和状态下讲述剧情,这也恰恰契合了整部影片的节奏和氛围基调,呈现出一种像《赎罪》那样英式文艺片的独特伤感之美。
表象淡化的科幻命题以及奇情故事并没有影响影片所要呈现的深刻主题,反而这种淡然的铺陈积淀,在经过一番压抑之后,最后的结局更能让观众深有所悟。科幻主题设定了人物无奈残酷的现实命运,泯灭了生而为人的本质人性,这种残酷的泯灭更能反衬出伤感爱情故事所表现的生命弥足珍贵与美好的主题。
关于主演,本片的第一主角当属凯瑞穆丽根,在经历了《成长教育》和《最伟大的》等影片的历练之后,这个英国小妞的演技越发的纯熟精湛,本片中她细腻内敛的演绎出角色凯丝的彷徨和孤独,能够深深感染和打动观众。也是这部电影,让我开始喜欢上了这个长相并不漂亮但绝对有实力的英国小妞。然后是久违了的凯拉奈特莉,她是个人一只钟爱的英国女演员之一,只是在08年的《公爵夫人》和《爱的边缘》之后,很久没有在电影里看到她的身影了,在这部《别让我在》中,她虽然算不上第一主角,但表演依旧精彩。男主角汤米的扮演者安德鲁·加菲尔德,现在因为出演《社交网络》和《新蜘蛛侠》而知名度与日俱增,他本身所特有的气质加之不俗的演技,让汤米这个敏感忧郁的人物显得很迷人。
三位主演的精彩表演为本片增色量多,另外本片在取景摄影上也很讲究,画面展现出的优美的英国风景,极大的烘托出本片伤感唯美的氛围。英国女作曲家Rachel Portman创作了本片的配乐,主题音乐以小提琴为主乐器,旋律幽美而也同样蕴含了伤感的味道。
不流于肤浅的快乐美好,"心痛"往往比快乐更真诚更深刻,也更美。看一部电影能够感受到深刻的虐心之美,这也是一种痛快的精神享受。
PS:07年的年尾看的最后一部电影是凯拉奈特莉主演的《赎罪》,今年在年尾又看到了她演的这部《别让我走》,深有感怀。这个年尾也挺给力,彻底甩开现实生活中人事情事的困扰,接连看到几部很棒的新电影,我想这也是对自己的一种安慰。
PPS:年底的几部佳片呈现出阴盛阳衰的特征,几位女演员,包括娜塔莉波特曼,妮可基德曼以及凯瑞穆丽根表现都相当抢眼,估计明年的奥斯卡会很热闹。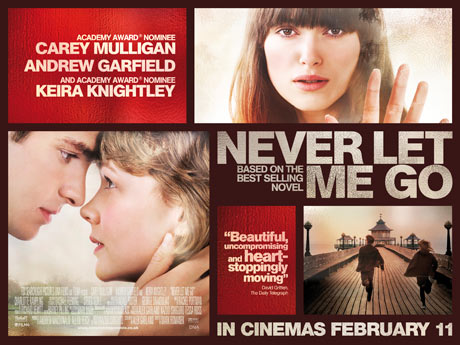 基本信息
  更多中文名:永远别让我走 / 不离不弃 / 千万别丢下我(小说中文译名)   更多外文名:Alles, was wir geben mussten ....Germany   导演:马克·罗曼尼克 别让我走 海报(5张)  主演: 凯瑞·穆里根 / 安德鲁·加菲尔德 / 凯拉·耐特丽 / Izzy Meikle-Small / 查理·罗 / Ella Purnell / 夏洛特·兰普林 / 莎莉·霍金斯   类型:剧情 科幻   国家/地区:英国 / 美国   片长:103分钟   上映日期:2010-09-15 (美国) / 2011-02-11(英国)   对白语言:英语   发行公司:福克斯探照灯公司
演职员表
  导演 Director:
马克·罗曼尼克 Mark Romanek   编剧 Writer:   石黑一雄 Kazuo Ishiguro ....(novel)   亚力克斯·嘉兰 Alex Garland ....(screenplay)   演员 Actor:   凯瑞·穆丽根 Carey Mulligan ....Kathy   凯拉·奈特莉 Keira Knightley ....Ruth   安德鲁·加菲尔德 Andrew Garfield ....Tommy   Izzy Meikle-Small ....Young Kathy (as Isobel Meikle-Small)   查理·罗 Charlie Rowe ....Young Tommy   艾拉·彭内尔 Ella Purnell ....Young Ruth   夏洛特·兰普林 Charlotte Rampling ....Miss Emily   莎莉·霍金斯 Sally Hawkins ....Miss Lucy   Kate Bowes Renna ....Miss Geraldine   Hannah Sharp ....Amanda   Christina Carrafiell ....Laurs   Oliver Parsons ....Arthur   Luke Bryant ....David   Fidelis Morgan ....Matron   Damien Thomas ....Doctor   娜塔莉·理察德 Nathalie Richard ....Madame   Huggy Leaver ....Delivery Man 1   Charles Cork ....Delivery Man 2   Sylvia Macdonald ....Bumper Crop Girl   David Stern ....Keffers   安德丽亚·瑞斯波罗格 Andrea Riseborough ....Chrissie   多姆纳尔·格里森 Domhnall Gleeson ....Rodney   Kate Sissons ....Sitcom Girl   Amy Lennox ....Sitcom Girl   Anna Maria Everett ....Waitress   John Gillespie ....Male Office Worker   Rachel Boss ....Female Office Worker   Lydia Wilson ....Hannah   Monica Dolan ....Nurse   Chidi Chickwe ....George   Robert Harrison O'Neil ....Surgeon (uncredited)   制作人 Produced by:   亚力克斯·嘉兰 Alex Garland ....producer   安德鲁·迈克唐纳 Andrew Macdonald ....producer   阿龙·瑞奇 Allon Reich ....producer   泰莎·罗斯 Tessa Ross ....executive producer   马克·罗曼尼克 Mark Romanek ....executive producer   Richard Hewitt ....co-producer   原创音乐 Original Music:   蕾切尔·波特曼 Rachel Portman   摄影 Cinematography:   亚当·基梅尔 Adam Kimmel   剪辑 Film Editing:   Barney Pilling   选角导演 Casting:   Kate Dowd   艺术指导 Production Designer:   Mark Digby   美术设计 Art Direction by:   Paul CrippsDenis Schnegg ....(supervising art director)   布景师 Set Decoration by:   Michelle Day   服装设计 Costume Design by:   Rachael FlemingSteven Noble   视觉特效 Visual Effects Supervisor:   Matthew Twyford ....(Baseblack )   副导演/助理导演 Assistant Director:   Lee Grumett ....first assistant director   Erin Lander ....additional third assistant director   Carley Lane ....third assistant director   Sarah MacFarlane ....second assistant director: crowd   Jo Tew ....second assistant director
剧情简介
  影片《别让我走》改编自作家石黑一雄的同名新作,小说讲述的是透过复制《别让我走》剧照(20张)人卡西的回忆,缓缓揭开了她住在海尔森学校的童年岁月,那是一个已然失落、不可再得见的世界,唯有留存在卡西的回忆之中,小说也深刻探讨了作为复制人是否该有灵魂,以及是什么使得人之所以为人。在影片中凯拉·奈特莉和凯瑞·穆里根以及安德鲁·加菲三人扮演的便是专门为捐赠器官而生的复制人,生活于孤岛学校之中。   28岁的女子凯西(凯瑞·穆丽根 Carey Mulligan 饰)自幼生活在校风严谨的寄宿学校海尔森,汤米(安德鲁·加菲尔德 Andrew Garfield饰)和露丝( 凯拉·奈特莉Keira Knightley饰)是她最重要的两个朋友。少男少女们在英国乡间那温暖阳光的沐浴下,度过了人生最青涩浪漫的时刻,也收获着真挚的友情。然而某天,少男少女们却从露西老师(莎莉·霍金斯 Sally Hawkins 饰)的口中得到一个令人震惊的消息:海尔森的终极目标是将他们培养成器官捐献者,他们必须无私地奉献自己的一切,直到年轻的生命之花凋零。在18岁之际,他们得以走出海尔森,去往各地的寄宿学校。黯然的命运如影随形,在短暂的生命中他们还将经历更多……   本片根据英国日裔小说作家石黑一雄的同名原作改编,并荣获2010年英国独立电影节最佳女主角奖(Carey Mulligan)。
编辑本段幕后/花絮
  影片由拍摄MTV出身的导演马克·罗曼尼克执导筒,导演之前的作品《一小时快照》效果不俗,相信新片应该在视觉风格上仍会有惊喜。通过《成长教育》迅速窜红的凯瑞·穆里根再次扮演起寄宿学校女生的角色应该是驾轻就熟,真正让人怀疑的应该是她的新片《龙纹身的女孩》他如何扮痞;《赎罪》之后便消息不多的凯拉·奈特莉新片也是排成了长队;男主角安德鲁·加菲尔德看起来脸生,但其实早已在多部影片中出演了角色,而且还是新任蜘蛛侠的人选,由他参演的《社交网络》成为今年热门电影。影片的三角阵容颇为令人期待。