The Next Three Days isn't a simple prison break movie. Mostly shown from the perspective of the husband, played by Russell Crowe, who is completely devoted to his wife and their son no matter how severe things they are.

The Next Three Days is a 2010 thriller film directed by Paul Haggis and starring Russell Crowe and Elizabeth Banks. It was released in the United States on November 19, 2010. It was filmed on location in Pittsburgh. It is a remake of the 2007 French film Pour Elle (Anything for Her) by Fred Cavayé
Plot
Lara Brennan (Banks) is accused of murdering her boss after an altercation at work. Her college professor husband John Brennan (Crowe) becomes obsessed with the idea of breaking her out of jail, and their son Luke[6] ceases to acknowledge her during their prison visits.
John consults Damon Pennington (Neeson), a hardened criminal who has successfully escaped from prison seven times, after reading Damon's book on the subject. Damon advises John to study the prison, saying "any prison has a key". Damon also warns him that the initial escape from the prison will be easy, compared to avoiding capture after the escape. To that end, John must obtain false passports, new social security numbers, and a "truckload of cash" to have a chance of building a life elsewhere. Damon also suggests going to an unstable foreign country that is politically hostile to the United States, so that there would be no extradition or cooperation with United States authorities. John learns the city's plan for capturing escaped prisoners—15 minutes after the escape, the police are to block the nearby roads, and that within 35 minutes, the block will extend to train stations and interstate toll stations, and that their descriptions will be at every airport and train station, though it may take longer for digital photos to be sent.
John plans the escape meticulously and obtains the passports and social security numbers after some painful efforts. The aforementioned "truckload of cash" is harder to come by, and he commits armed robbery of a methamphetamine lab. There is an intense gunfight, but John leaves with a bag full of cash. John falsifies and plants medical evidence indicating that his wife is severely ill, and she is transferred to the hospital. John follows the ambulance and retrieves his wife. She's shocked when he violently subdues a prison guard and initially refuses to come with him, but he challenges her to call Luke to say that she chooses not to reunite with him, after which she relents.
Throughout the movie, John is shown assembling maps, photographs, notes, and other papers on a wall of his house. He tears them down and stuffs it into several garbage bags before leaving to rescue Lara, leaving one bag in the trash can outside his own house, and the rest in a dumpster some blocks away. As it turns out he did this selectively to misguide the detectives, to focus them on flights from Canada to Haiti, giving his family time to board a flight from Toronto to Caracas, Venezuela. They have an uncomfortable moment at Customs, as an officer examines their passports and glances at the page of photographs showing criminals on the run. He allows them to pass. The shift changes, and as they walk down the hall, their photos are finally sent to the security personnel. They reach Venezuela. The detectives back in Pittsburgh quietly re-examine the crime scene but miss some new evidence. It is shown in flashbacks that Lara was in fact innocent.
Cast
Russell Crowe as John Brennan
Elizabeth Banks as Lara Brennan
Brian Dennehy as George Brennan
Olivia Wilde as Nicole
Lennie James as Lieutenant Nabulsi
Aisha Hinds as Detective Collero
Daniel Stern as Meyer Fisk
RZA as Mouss
Jason Beghe as Detective Quinnan
Kevin Corrigan as Alex
Liam Neeson as Damon Pennington
Allan Steele as Sergeant Harris
imdb:7.4/10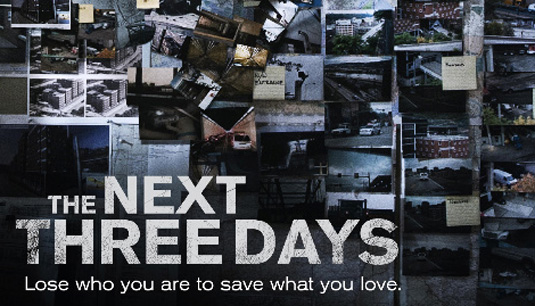 导演
  保罗·哈吉斯
三日危情
编剧
  保罗·哈吉斯 Paul Haggis ....(screenplay)
  弗雷德·卡瓦耶 Fred Cavayé ....(screenplay "Pour elle")
  Guillaume Lemans ....(screenplay "Pour elle")
  演员
  罗素·克劳 Russell Crowe ....John Brennan
  伊丽莎白·班克斯 Elizabeth Banks ....Laura
  连姆·尼森 Liam Neeson ....Damon
  奥利维亚·王尔德 Olivia Wilde ....Nicole
  乔纳森·塔克 Jonathan Tucker ....David
  布莱恩·丹内利 Brian Dennehy ....George Brennan
  RZA ....Mouss
  Cristina Aloe
  连尼·詹姆斯 Lennie James ....Lt. Nabulsi
  莫兰·阿提艾斯 Moran Atias ....Erit
  杰森·贝吉 Jason Beghe ....Detective Quinn
  Sean Huze ....Barney
  Tyrone Giordano ....Mike
这是一部交织着情感和动作双重冲击力的影片,由《撞车》导演执导,讲述了一位丈夫为了拯救冤狱的妻子不惜一切代价铤而走险。
奥斯卡最佳影片《撞车》导演/编剧保罗·哈吉斯精湛的掌控功力,相信新片绝不会在惊悚与悬念方面输给当下任何一个对手. 该片翻拍自两年前法国人弗雷德·卡瓦耶执导、文森特·林顿和黛安·克鲁格主演的犯罪惊悚片《一切为了她》。
剧情介绍:
眼下的生活状态,对于一个大学教师约翰·布伦南(拉塞尔·克劳饰)这个年近中年的男人来说堪称完美:贤惠的妻子,健康的儿子,还有稳定而幸福的环境。但这一切皆因妻子劳拉(伊丽莎白·班克斯饰)莫名其妙地因谋杀罪被捕而彻底打破。面对突如其来的横祸,约翰一方面要继续供养和稳定小儿子乔治(布莱恩·丹尼饰)的物质精神生活,另一方面则必须想尽一切办法维护自己的家庭不致破碎。进而他不得不要在接下来的短短三天时间里通过各种手段,要么还爱妻劳拉清白,要么凭一己之力拯救她逃出牢狱之苦。于是,在达蒙·潘宁顿(连姆·尼森饰)等人的帮助下,智慧勇敢的约翰开始了"营救"妻子的惊天计划……