Going the Distance is a 2010 romantic comedy film directed by Nanette Burstein, and starring Justin Long and Drew Barrymore. The movie began filming in New York City in July 2009,[3] and was released on September 3, 2010.
Plot
Erin (Drew Barrymore) is a 31 year old woman who is having trouble pacing her life, she is still in grad school and she has recently got a job as a summer intern in a newspaper in New York. While out with a friend at a bar she meets Garrett (Justin Long) over a game. The two then drink together and end up at his place and they have sex while Garrett's roommate Dan DJed their hook up. The next morning Erin is anxious to leave but Garrett asks her to have breakfast with him and she agrees. She then tells him that she is only in New York for 6 weeks and is not looking for a relationship and he agrees with her stating that he had just got out of one and wants this to be casual.
Erin and Garrett start having a 'casual' fling but it started to get deeper for them causing Erin to try to convince her boss to find her a more permanent position and even covers a story and writes an amazing article, this causes her boss to ask her to contact him in January and ask for a job. Meanwhile Garrett, who works at a label, is given an assignment to manage a band he does not like at all and is starting to dislike his job. They both continue with their fling, however when the six weeks are up they find it difficult to let go. After Garrett drives Erin to the airport they say goodbye, but just as Erin is about to leave Garrett runs after her and tells her that he is crazy about her and wants to have a long distance relationship with her. She agrees.
Over the next couple of months Erin and Garrett spend all their free time texting and calling one another trying to work out times when one of them can fly in. Garrett surprises Erin by showing up on Thanksgiving and they have a very emotional reunion. When they go to Erin's sister's house (where Erin is currently staying) they start to have passionate sex on the dining table while (unbeknownst to them) Erin's sister's husband was having dinner. Erin's sister eventually walks in and there is an awkward moment. The next day when Erin and Garrett are out to see The Boxer Rebellion they both note how good the band is. Garret gets jealous when he sees that Erin is friends with Damon, who is a handsome bartender that works with her. Garrett eventually has to leave and goes back to New York.
In January, Erin calls her summer internship boss and asks him about the job he mentioned. He, however, tells her they are not hiring, to which she gets very frustrated. Not finding comfort in a phone conversation with Garrett she goes and gets drunk with Damon and almost kisses him but ends up going home. Later, her professor mentions that he recommended her for a position at the Chronicle in San Francisco and she goes for an interview. Meanwhile, Garrett is going crazy because he misses Erin. Following the advice of his co-worker he has phone sex with Erin but it doesn't go well.
A month later as Erin is packing to go to New York she gets a call from the newspaper and is told that she is hired. She goes to New York and tells Garrett and the two have a fight. The next day however they make up and he asks her to make the decision whether or not she would accept the job. A week later he calls her and tells her he wants her to move to New York and he'll buy an apartment for them and start fresh. She agrees and he goes down to San Francisco to sort things out. However, after a conversation with Erin's sister Garrett realizes that he cannot be the reason that Erin turns down the job and the two part ways after an emotional conversation.
Six months later Erin is doing well with her career and Garrett has not been with any women since Erin. He quits his job and starts managing The Boxer Rebellion (the first band he and Erin saw together). He sends Erin tickets to their show and she goes there (not knowing he was the manager). She runs into him there and the two exchange love vows and he tells her he moved to Los Angeles that is only a few hours away from San Francisco and the film ends with the two of them making up.
Cast
Drew Barrymore as Erin
Justin Long as Garrett
Charlie Day as Dan
Jason Sudeikis as Box
Christina Applegate as Corrine, Erin's sister.
Kelli Garner as Brianna
Natalie Morales as Brandy
June Diane Raphael as Karen
Ron Livingston as Will
Rob Riggle as Ron
Leighton Meester as Amy
Peyton R. List as Kaley Arizona
Kristen Schaal as Female Bartender
Jim Gaffigan as Phil, Corrine's husband.
Sarah Burns as Harper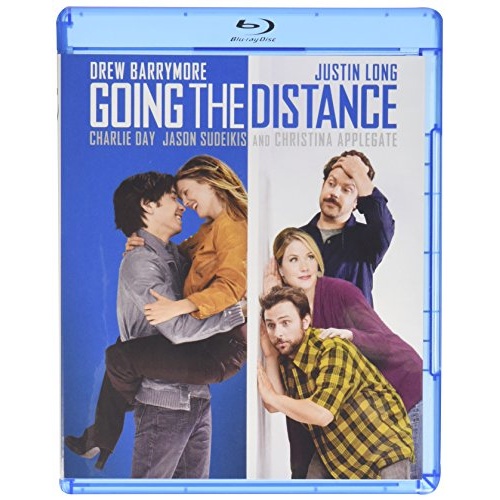 基本信息
  《远距离爱情》海报集(4张)中文片名:远距离爱情(更多译名:真爱零距离)
  英文片名:Going the Distance
  IMDB:暂无
  地区:美国
  类型:喜剧 / 爱情
  语言:英语
  导演:纳内特·波斯特恩 Nanette Burstein
  编剧:杰夫·拉图利普 Geoff LaTulippe
  主演:德鲁·巴里摩尔 Drew Barrymore ....Erin
  贾斯汀·朗 Justin Long ....Garrett
  克里斯蒂娜·艾伯盖特 Christina Applegate ....Corinne
  朗·里维斯顿 Ron Livingston ....Will  
《远距离爱情》电影海报
凯丽·加纳 Kelli Garner ....Brianna
  娜塔丽·莫瑞丝 Natalie Morales ....Brandy
  查理·戴 Charlie Day ....Dan
  琼·戴安·拉法尔 June Diane Raphael ....Karen
  杰森·苏戴奇斯 Jason Sudeikis ....Box
  佩顿·利斯特 Peyton List ....Kaley Arizona
  上映时间:2010年8月27(美国)
剧情简介
  《远距离爱情》剧照(20张)Erin(德鲁·巴里摩尔 饰)和Garrett(贾斯汀·朗 饰)在酒吧邂逅,喝喝酒谈谈情度过了浪漫的一晚,两人甚至还一块吃了早餐,火花就这样在两人中间闪现了。但夏天过后,他们必须面对一个严重的问题,Erin的家在旧金山而Garrett的事业在纽约,他们不想放弃现有的一切但也不想让这段关系结束。于是,他们凭借着手机开始谈一场"远距离的恋爱"。